Glass Blowing for Vacuum Devices
Bending Tubes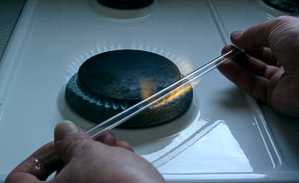 It is easiest to bend a tube using a very wide flame so that a considerable section becomes heated. I tried using the gas cooker in the kitchen. The tube must be rotated in the flame so that it becomes evenly heated. It should be heated just enough to bend it.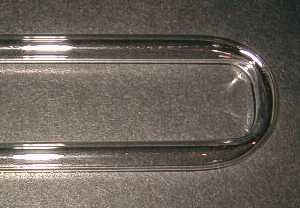 The 8mm diameter tube tends to collapse during bending. This could probably be improved upon by stopping one end of the tube and blowing into the other end while bending. The problem with practicing this is that it wastes lots of tube.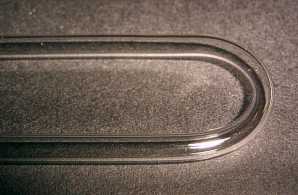 The 6mm diameter tube bends much more easily and evenly.

I found that the gas hob is not ideal because it is so low down and the top surface of the cooker gets in the way. It might be possible to make an adaptor for the bunsen burner to make its flame broader.